Saturday, December 27, 2008
Friday, December 05, 2008
I ran the first scenario from my current project - a freikorps danmark campaign booklet - for a couple of guys at the gaming club this evening. Random Encounter Torben was with me yet again.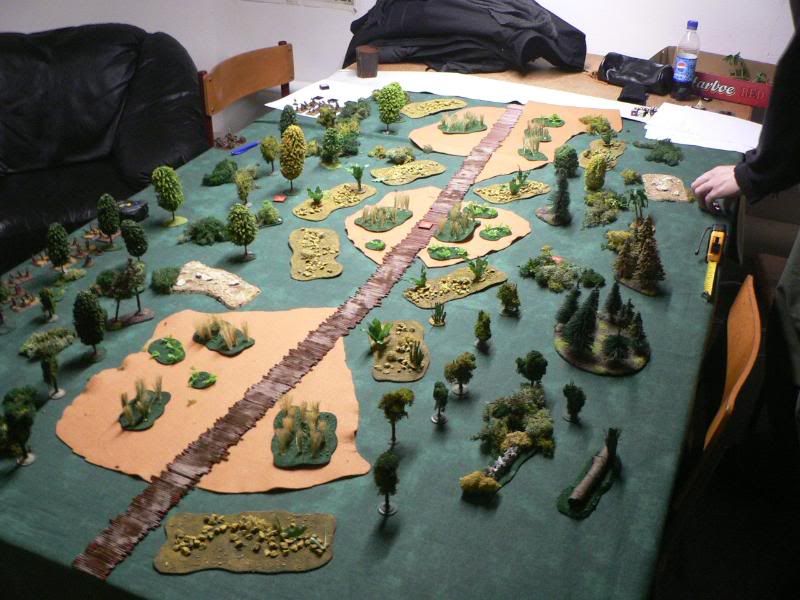 A rollbahn - a road of wood logs - was stretched over the battlefield. Both sides were trying to get hold of it or block the other side from going over it. The brown pieces of cloth designate the areas were the bog/swamp is worst.
The danes advance up the track. Not knowing that russians are lying in wait.
The danes spread out and try to get a grasp of what's hiding.
Two horsecarriages with ammunition are trying to get over to the east side to help out Zug IV that has run low on ammo.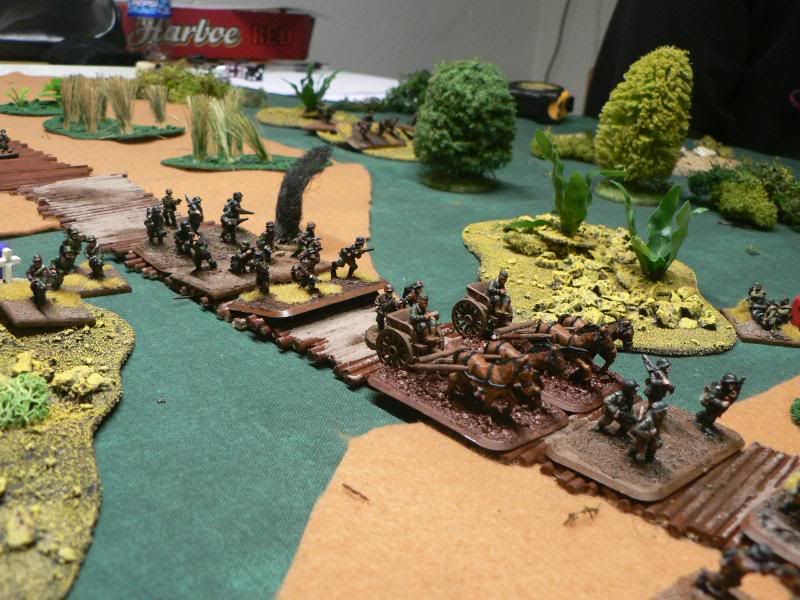 Suddenly the russians storm out of the bog and assault head on into the danes!
The battle is fierce and many are lost on both sides.
The danes repell the russian platoon at last.
Another russian infantry assault. This time 27 men attack 6 danes in bloody shovel combat! Miraculously no one is the winner of the first round and another one is fought immediatly. The danes are wiped.
An entire russian platoon has been hiding... sneaking up the west end and ready to assault the danes from a new point.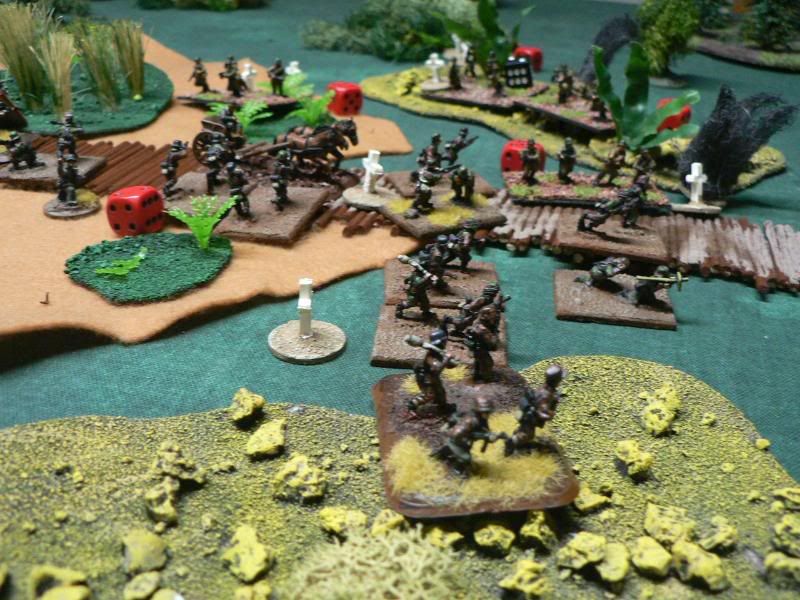 The danes try to face the new threat from the west.
The remnants of a russian sections is ruthlessly hunted down for the gain of victory points.
The CO Jesper Sørensen was without any comparison the key figure of the battle. He activated time and again and used his influence to activate his troopers and lead their fire!
Final moments. The new threat in the west is not easily dispersed.
As can be seen on this final shot the situation didn't change dramatically.
It ended a draw in the favor of the danes. Due to my clumsy writing squads that were below 50% and otherwise completely useless still counted as not giving VP.
Tuesday, December 02, 2008
Yet another game of FWC at Random Encounters HQ: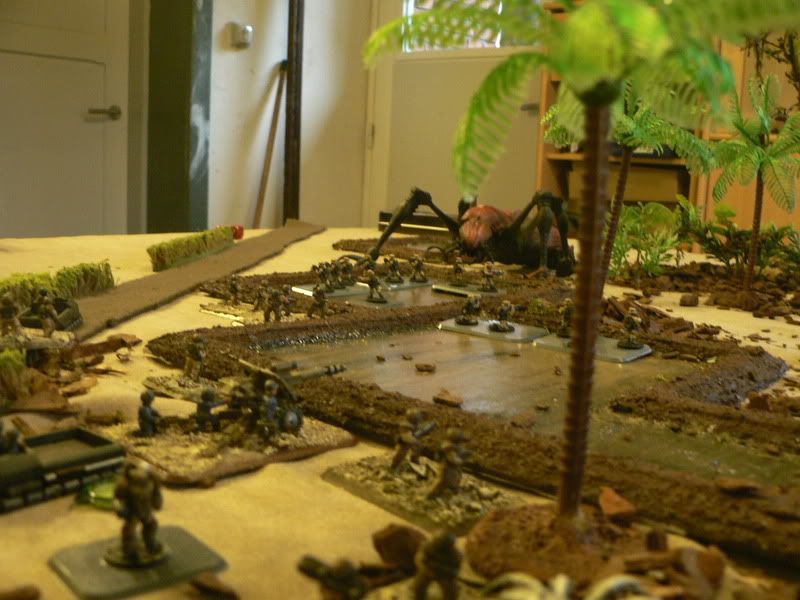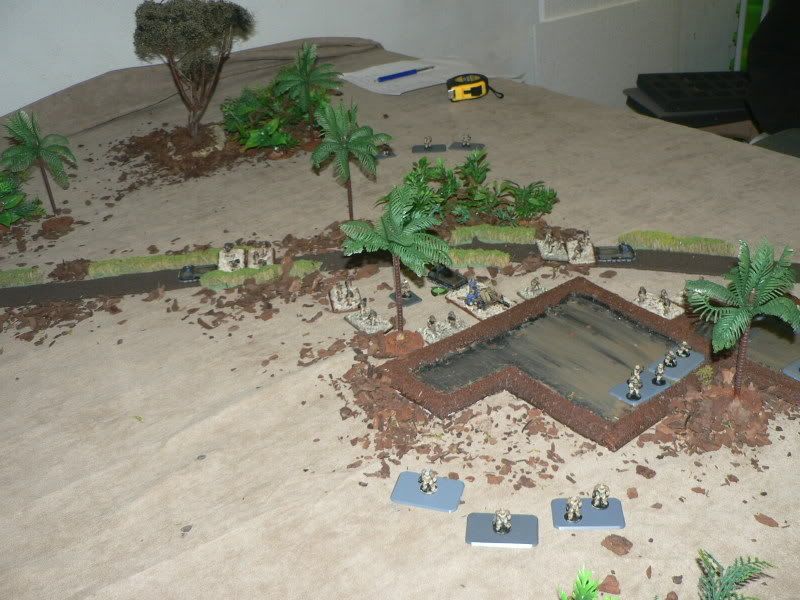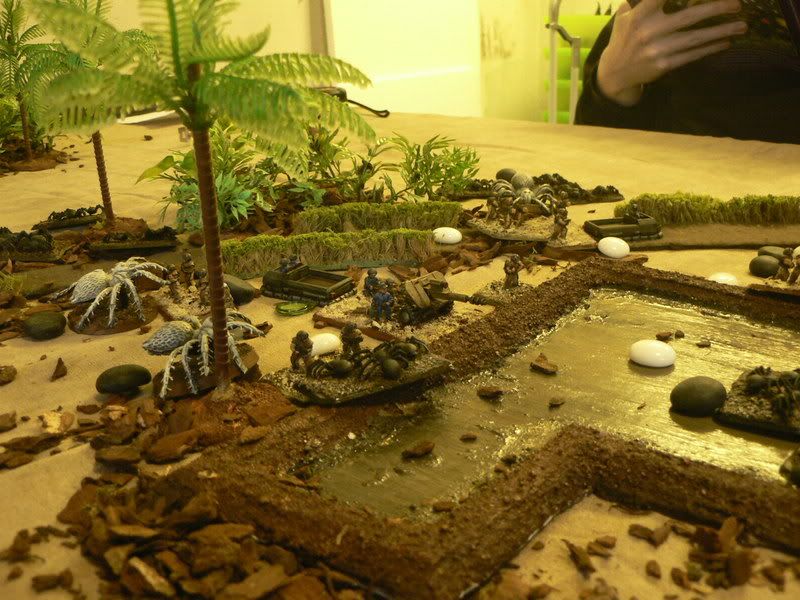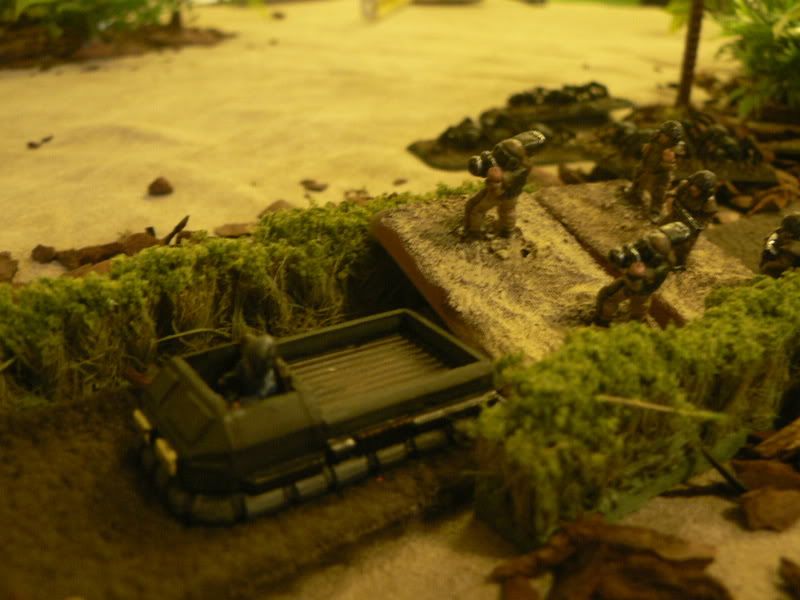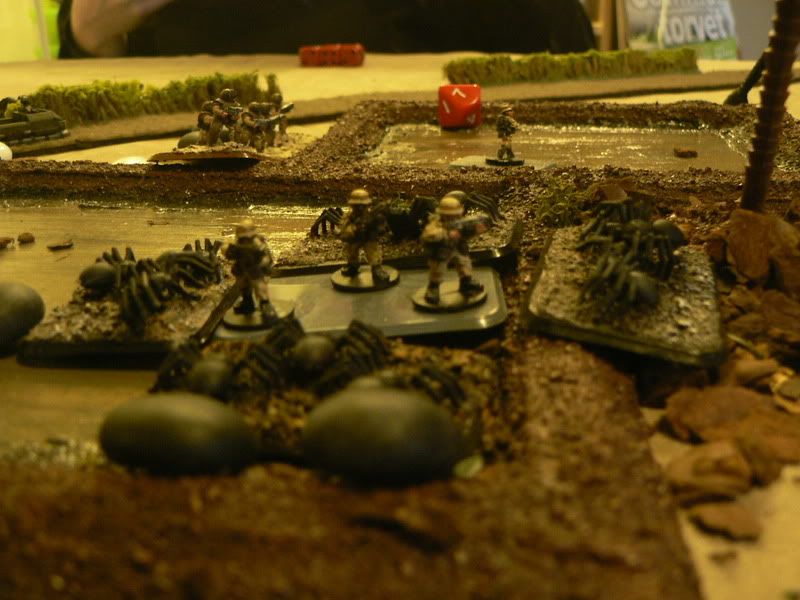 Yet another game of FWC at Random Encounters HQ:
Torben had dug out his 15mm sci-fi infantry from Ground Zero Games and I found some halloween spiders, that I'd put on suitable bases to form an alien spider army.
I used the tyranid list to proxy as I've not written my own list for them yet.
Torben used the Stargrunt/Dirtside list that has stats for all GZG figures.
I totalled my arachnids up to 1625 points and we used that as basis for the lists. Torben actually managed to land exactly on 1625 too - all fair!
My army was:
15 minispiders (lictors)
3 big spiders (malefactors)
1 tank beetle (biotitan)
1 plasma bug (shooting tyranid titan)
Torben had:
6 power armour stands
2 transports
1 AT-gun
A lot of regular infantry
Some rangers
I deployed my entire army via tunnels... meaning I got to deploy in base contact with Torbens units. Had we been more experienced Torben would probably have kept most of his army in reserve or used mobile deployment or given me 1st turn.. this way he lost immediatly!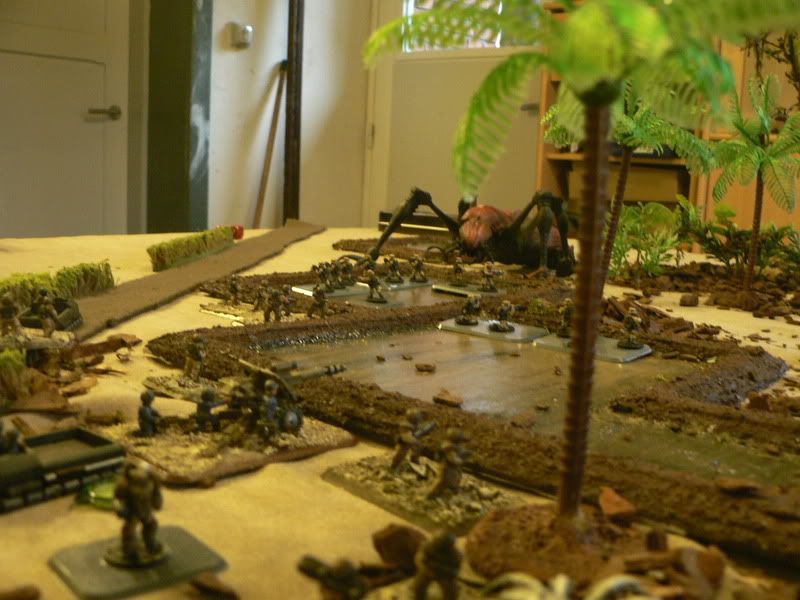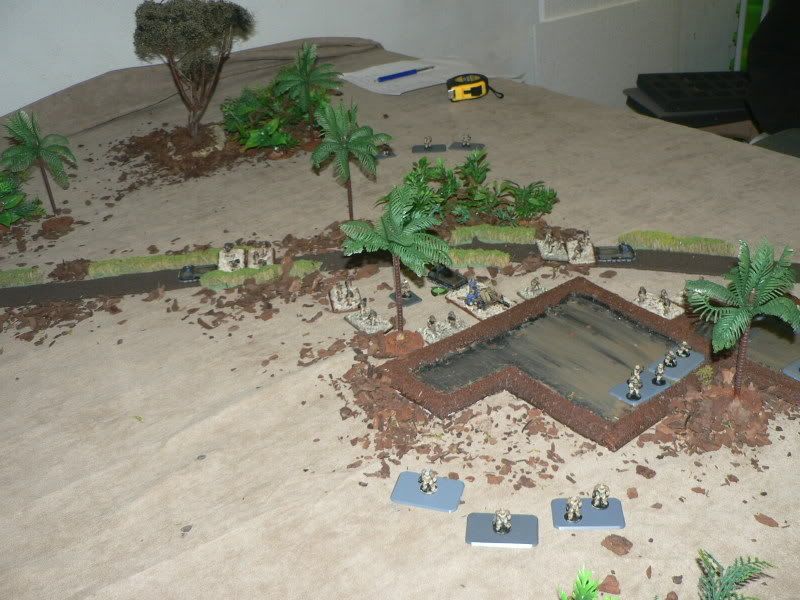 The scenario was some colonization mission where Torben had to deploy in center via orbital deployment and contact each base edge and return with intel to the center. Really nice mission actually.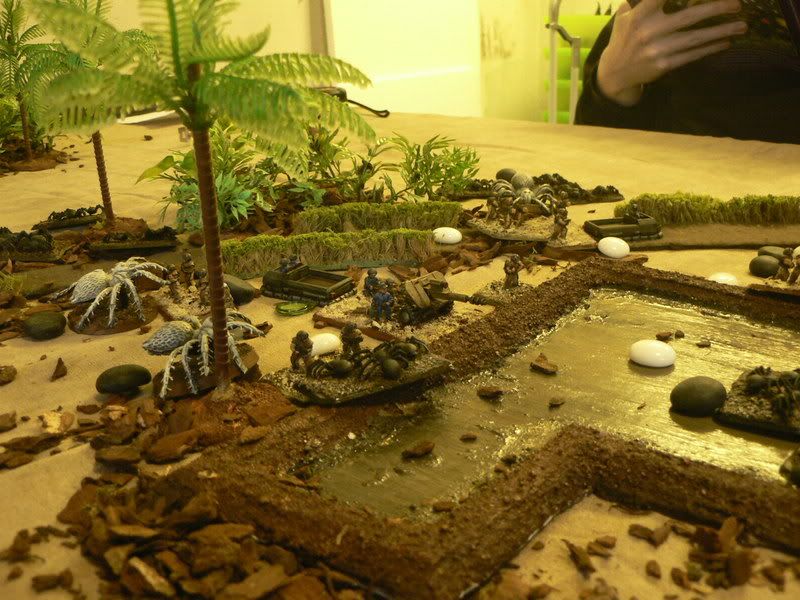 The arachnids close in... It was kind of hopeless for Torben. But we couldn't have known it before trying... and so we did - next time I bet I won't have that easy a kill.
Torben and I have had many science fiction games using bugs on one side and somehow it seems that as soon as I play the bugs... luck immediatly favors me and kills Torben.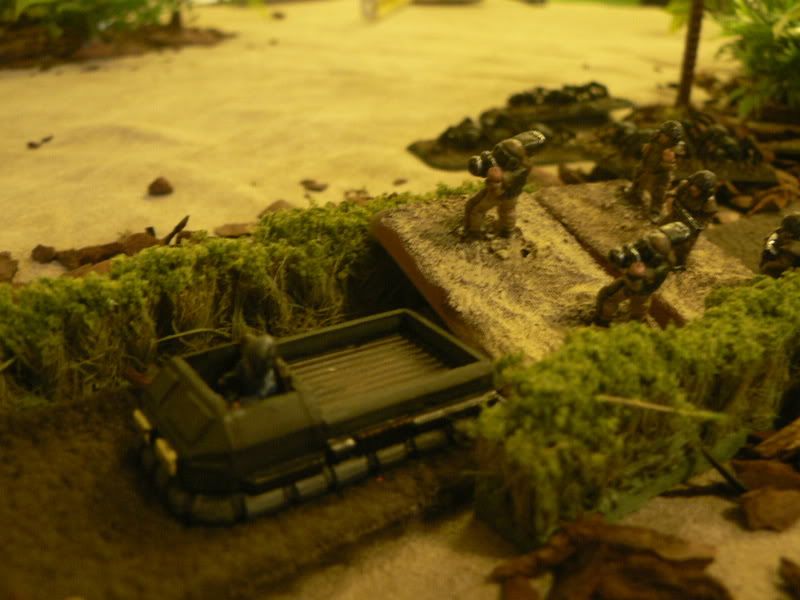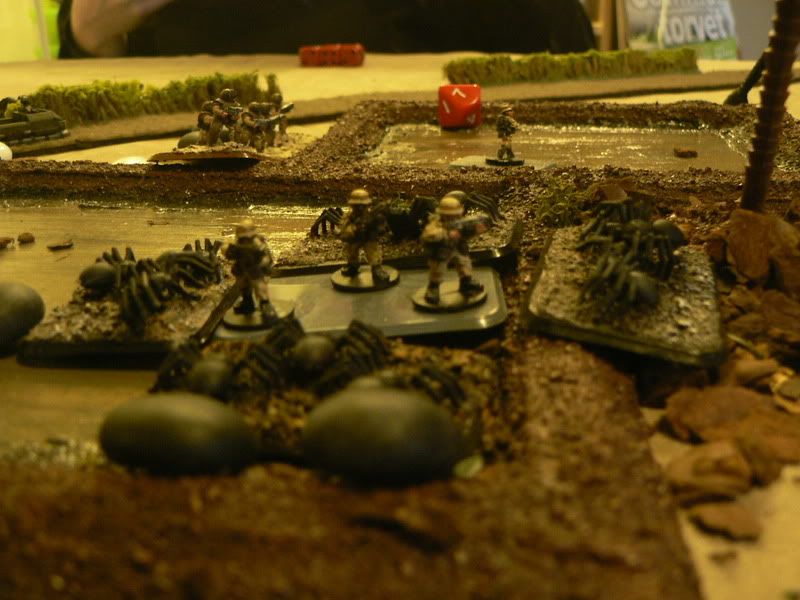 We had a thoroughly good time with laughs, taunts and buckets of dice. FWC made soooo much more sense in this scale I think.